Mindshare's latest #ID Culture Report looks at how spirituality is going through a rise and reinvention phase.
Spirituality is nuanced, personal and sometimes hard to define, but it is often described as 'seeking a meaningful connection with something bigger than yourself'.
So what has spirituality got to do with marketing or media? Well, spirituality is intrinsically connected to people's sense of identity and inner self and can drive behaviour and decision-making, which is what we always strive to understand for our clients.
Spirituality is often an individual experience but it can also be collective. Digital platforms are providing a space to share and express in different and unique ways as spirituality becomes more open. Younger people are embracing the autonomy and freedom of alternative faiths and experiencing spirituality on their terms and whilst spirituality in advertising and media has often been considered taboo, this is now changing.
Mindshare research has found that those who identify with their spirituality, religion or faith are generally experiencing more positive feelings. They are more hopeful at 31% compared to 25% of all adults. Interestingly, the younger age group of 18 to 34 years old, who identify with their religion, faith or spirituality, feel even happier, more hopeful, confident and inspired than their older counterparts. (Mindshare Global Tracker, Wave 2, 2022).
The Rise and Reinvention of Spirituality
People have access to more information and more exposure to different spiritual practices and other ways of thinking to expand their horizons than ever before. We have witnessed the rise and reinvention of spirituality, accelerated by the pandemic, which has brought people closer to their spiritual selves and looking for ways to stay connected with their inner selves. Uncertainty is the key catalyst for the need to believe in something bigger, with digital being the enabler for people to enhance and share their spiritual experiences.
People want authenticity and are looking for something to trust and have faith in as 53% have less trust in the media than before the pandemic. Recent social and political events caused many people to reevaluate their lives, including those they trust and have faith in. 48% said their minds were reset during the pandemic and they no longer think the same way they used to.
The uncertainty of the last few years led to people searching for reassurance and purpose in the form of spirituality. One in four has become more aware of their spirituality due to the pandemic and 32% found that focusing on their spirituality makes them happy. Additionally, 55% of people said they have become more focused on their inner selves. Part of focusing on your inner self includes health and wellness, which has become more holistic and ritualistic.
Spiritual Enablers
Technology and media have enabled the growth of more spiritual connections and globalised empathy. It is our connections that make us more empathetic and spiritual. In a post-pandemic world, people have developed more emotional empathy. They are more likely to adopt another's point of view, imagine themselves in someone else's shoes and feel compassion towards others. 46% of people said that the pandemic made them more empathetic.
Whilst our digital existence has given us a new and unique window into people's lives, we also have new challenges, uncertainties and anxieties. This has has created more global empathy, and people now expect the same from brands, with 66% of people expecting more positivity from brands and media.
Technology makes religion and spirituality more accessible and easier to participate in, with more than a third (37%) using technology to help connect with their spirituality/religion. And 62% of people who identify with their spirituality/religion look for content that helps them escape reality, versus 57% of all adults.
Media has also become an important part of people's rituals, with 54% saying that media is a part of their daily rituals - such as checking social media or using meditation apps. 81% of people who identify with their religion/faith say mobile technology makes their life simpler (versus 77% of all adults)
What's next for brands?
It is more important than ever for brands to consider how to build trust with their consumers, whether they can help people with their inner selves, whether they are an empathetic brand, and how they can use media to become a part of people's spiritual routines.
---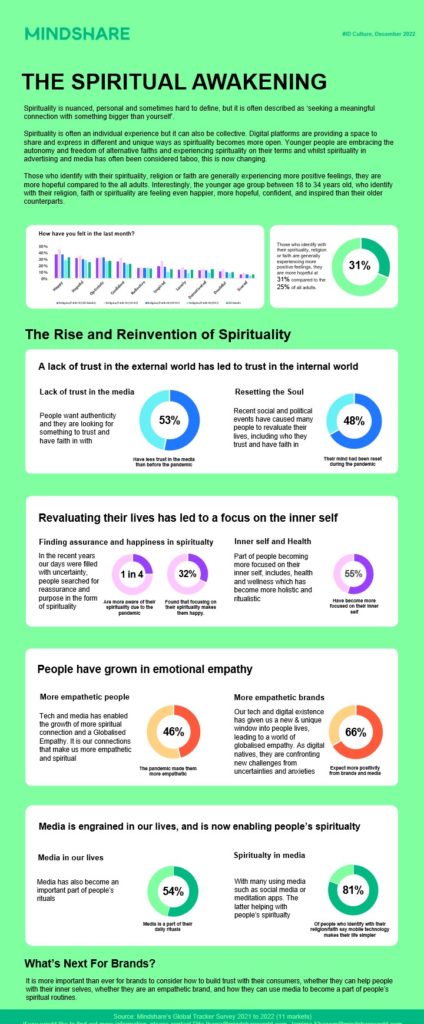 ---
Source: Mindshare's Global Tracker Survey 2021 to 2022 (11 markets)
If you would like to find out more information, please contact [email protected], [email protected]