Mindshare has partnered with Spotify to uncover how identity is linked to people's audio streaming behaviour.
People's identities are evolving as we increase our time spent with digital platforms. From self-expression to our relationship to other cultures, our identities influence our behaviours, passions and interests and are the link that connects communities through shared experiences. What's more, identity is driving decisions that impact every aspect of our lives, including the media we choose to consume.
This new study used Mindshare's Precisely Human Intelligence methodology to understand the consumer through data accuracy, using first party data and primary research, and their human values to engage them with empathy. It leveraged Spotify's Streaming Intelligence, the platform's insights based on Spotify Free users' streaming behaviours in the UK, US, Canada and Australia.
Through our study we found 6 key identity mindsets driving Spotify's Free Ad-Supported user's streaming behaviour that can be used as signals to target and engage streaming audio audiences.
Key Global Findings:
1. Self-Expression
Multiple identities are reflected in playing music, with 63% saying that different playlists represent different parts of their identity. People's podcast listening also reflects their identity, 58% agree that the podcasts they listen to say a lot about who they are, although half of respondents (47%) have said that people would be surprised to know what podcasts they listen to.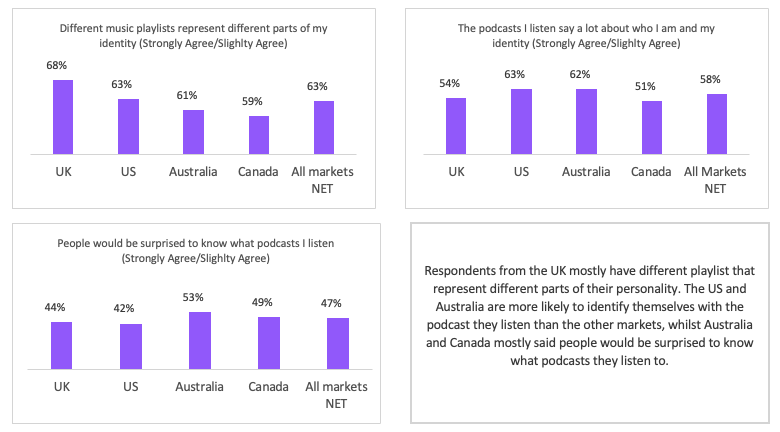 2. Connection
Streaming music gives Spotify users a sense of belonging and a way to connect with others, 2 in 5 (40%) say that playlists allow them to connect with other people. Playlists are the link that brings people together with 1 in 4 sharing with friends and family and during social occasions such as parties. Podcasts are also a way to connect, 55% say that sharing podcasts is a way to start conversations and socialise with others and 41% love to debate podcast's content/topics.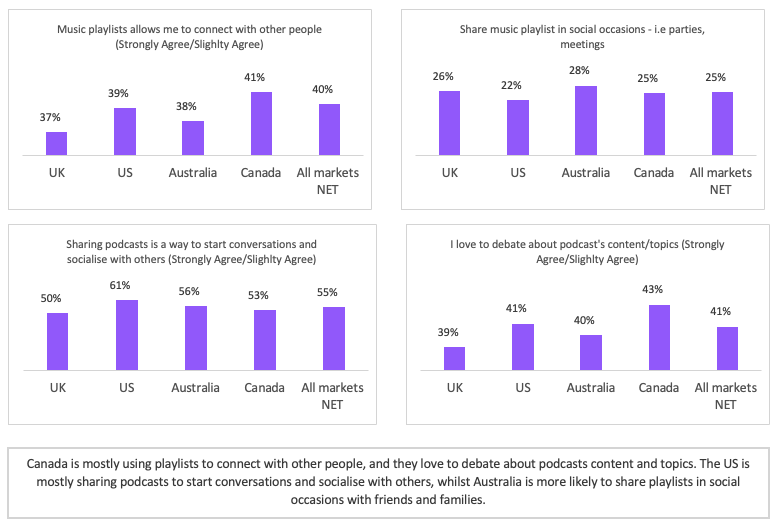 3. Moods & Emotions
Music streaming provides instant gratification and triggers the nostalgic emotions inherent to people's identity. 76% agree that streaming music takes them back to specific memories, 65% have different playlists for different moods (i.e. energetic, relaxation, etc.), and 69% say that streaming music provides them with instant gratification.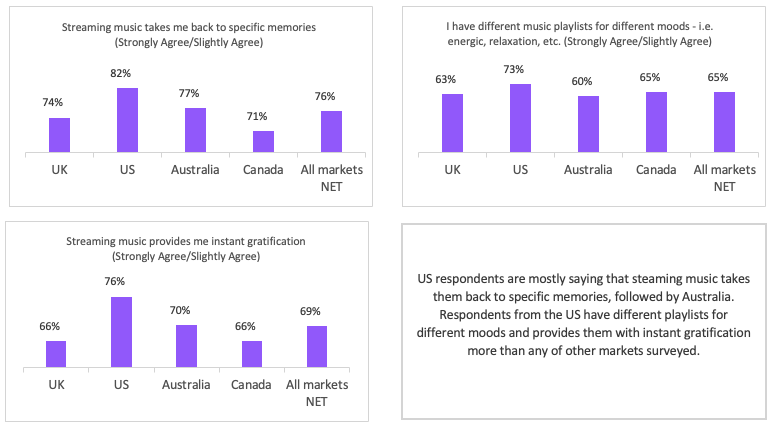 4. Pushing Cultural Boundaries
Music is a conduit to experience and learning from other cultures with 69% saying that music streaming platforms are a way to expand their taste in music and experiment with different genres and cultures. When it comes to podcasts, 68% listen to podcasts to get different points of view on a specific topic, and 61% agree that podcasts help them to develop a deeper understanding of different cultures.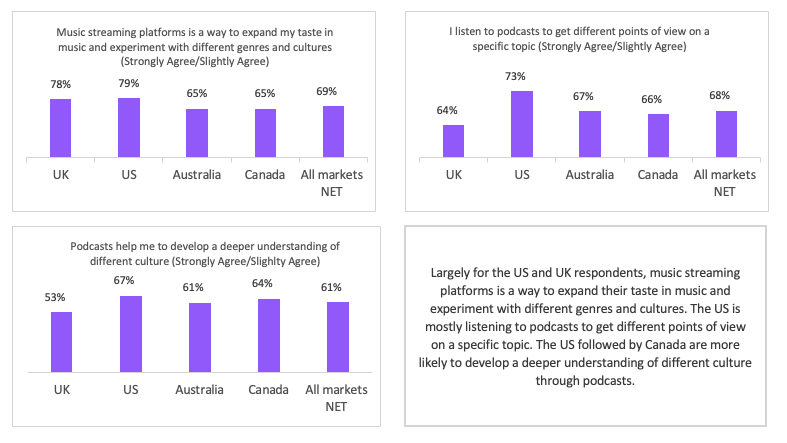 5. Activity / Movement based Moments
More and more people are streaming their music whilst on the move, with 52% creating playlists for specific activities/moments. Similarly, 75% say that podcasts allow them to enjoy content while they are on the go or doing other things.

6. Discovery
Streaming platforms are the way to discover new and relevant music. For 61%, platform recommendations help them discover new music that is relevant to them, and shared public playlists are a key source for discovery. 52% stream from shared/public/recommended playlists. 70% say that they are always able to find great content to listen to.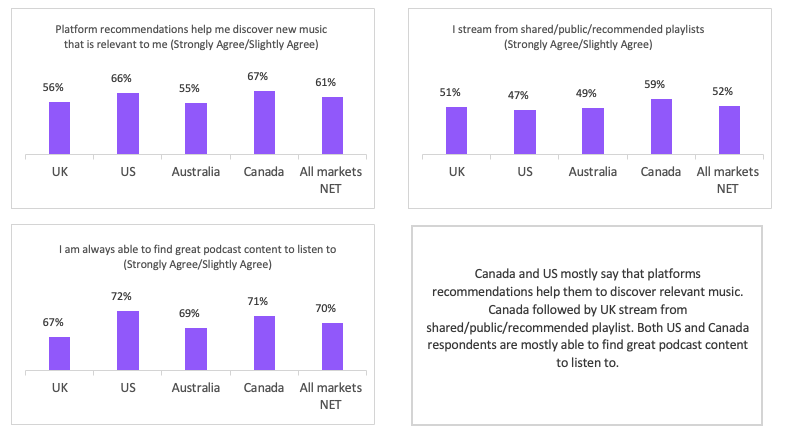 Rita Ibarra, Business Director of Data Strategy & Insights at Mindshare said: "Music, as a universal language, drives peoples' self-identity and podcasts create a unique and more intimate connection with the listener. In a world immersed with visual stimulus and screens, sound is a crucial element for content and entertainment experiences and a way for advertisers to engage with consumers identities with empathy and precision in the audio streaming space". Understanding how identity manifests in streaming platforms is fundamental for brands to then be relevant in the right context and able to respond to consumers' needs and emotions and forge deeper connections with them.
"We know that streaming platforms like Spotify have changed the way people engage with their passions and interests. From self-expression to discovery, we believe these six key identities will help advertisers better understand and reach streaming audio listeners, especially on Spotify." - Roger Purcell, Associate Director, Insights and Activation
For more information contact: [email protected]
---
About the methodology
This research was conducted with Mindshare's Precisely Human Intelligence approach that combines empathy and precision through a deeper understanding of human identity connected to first party data. This approach enables Mindshare's media planning to take an audience-first and innovative approach to audio. The data used was from a bespoke audio streaming study, a recontact survey from Choreographs WPP's Audience Origin data – covering audio behaviour, consumers identity, lifestyle and media consumption.
The collaboration with Spotify provided access to its first-party data from users' streaming behaviours that go beyond demographics revealing moods, mindsets and moments, across a variety of content, contexts, and devices.
This research looked at the behaviour of 1081 Spotify's Free Ad-Supported key audiences, including: Men (18+ years old), Women (18+ years old), Gen Z (18-24 years old), Millennials (25-44 years old) and Parents (18+ years old) in the UK, US, Canada and Australia.