Mindshare partnered with SXM Media and Edison Research for new insights on the growth of Black podcast listeners, and their listening habits. What is this audience looking for? What topics do they want to hear more of? How do they feel about brand involvement? And what does that mean for marketers?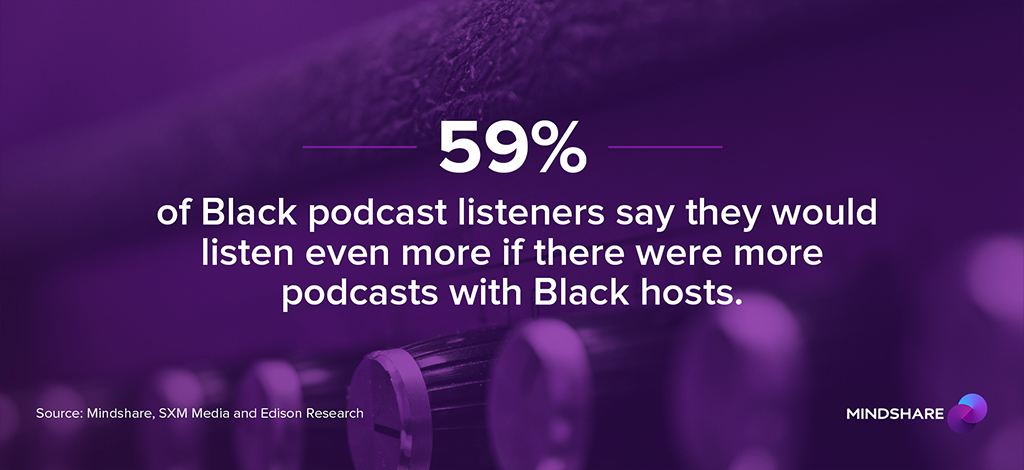 Over 2,500 Black Americans age 18+ were surveyed online for this study, the first of its kind. SXM Media highlights the study findings and outlines the trends in the podcast world. More coverage and insights from the survey can be found in Campaign.
Research Excerpt: Podcast listening among Black Americans is surging, and these consumers are gravitating to shows with Black hosts that spotlight Black issues and voices.
Black Podcast Listenership is on the Up and Up
We had a hunch that more of this demographic were discovering podcasting, but the data tells a powerful story. In fact, 36% of Black Americans now listen to podcasts monthly, which is equal to 12 million Black adults listening to podcasts monthly.
What's even more significant is that Black listeners are closing the gap with the general market. In 2020, 17% of Black Americans were listening to podcasts weekly, compared with 24% of all Americans. Just a year later, the number of weekly Black listeners jumped to 26% (while the general market grew slightly to 28%).
This is still a growing market, which is exciting for both content creators and brands. According to our research, 42% of Black monthly podcast listeners say they've been streaming shows for one year or less. The Black audience is interested, curious, and remaining hooked.
The Importance of Black Creators and Relatable Content
Black podcast listeners are diving into topics that interest them, and they want honest and raw conversations. Half of Black podcast fans said they like shows that focus on people of color because these podcasts spur unfiltered conversations that can't be had on social media.
Not only that, but these consumers want content that reflects their lives and experiences, including shows with relatable creators. Half of the users that were surveyed said it was important to them to listen to shows with Black hosts, and more than half wanted shows that include Black stories and perspectives.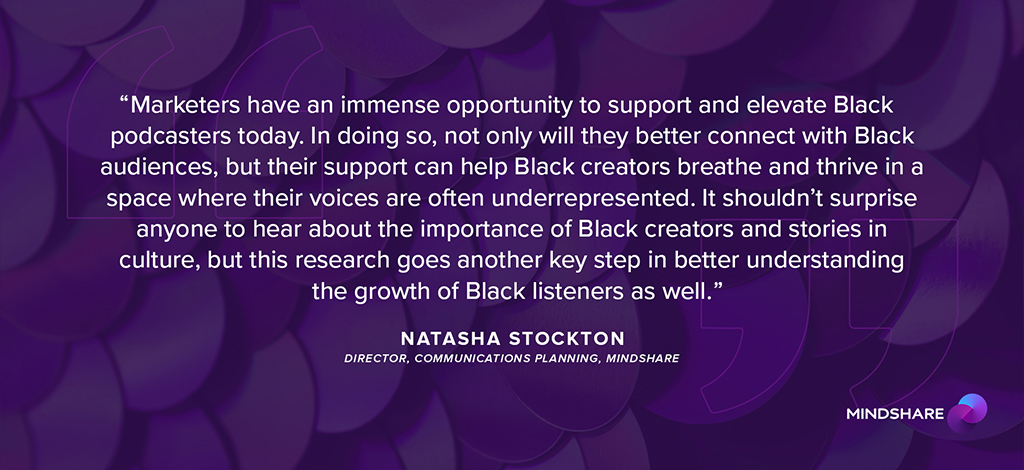 In fact, 59% of these consumers say they would even listen more if there were more podcasts with Black hosts. When it comes to genres, Black listeners are passionate about a wide range of topics, with their top three content-loving categories being comedy, music, and health & fitness, a genre not found in the top rankings among the general population. Furthermore, 58% of Black listeners wish there was more content around key interests covered by and for Black voices, including Business/Economy, History, True Crime, Fiction, Kids & Family—it's a clear gap in content that the industry can help fill.
Mindshare has been focused on amplifying diverse voices and stories in media as part of their work to drive Good Growth for the industry, with initiatives like their award-winning Inclusion Private Marketplace series (PMPs). This series is designed to increase advertising investment in underrepresented communities of journalists, content creators, and artists, such as the Black Community PMP and LGBTQ PMP. Mindshare and its clients are also part of GroupM's Media Inclusion Initiative, an integrated strategy for directing investment in, and creating opportunities for, diverse media companies and content creators.