#TeamMindshare participated in a wide range of activities to celebrate Earth Day across our offices - from speaker presentations and planting trees to spring cleaning and more - our people learned how to incorporate sustainable principles into our client work and everyday practices.
We hosted several virtual sessions on sustainability, with special guest speakers talking about everything from carbon footprints, to integrating climate action into media plans, and more.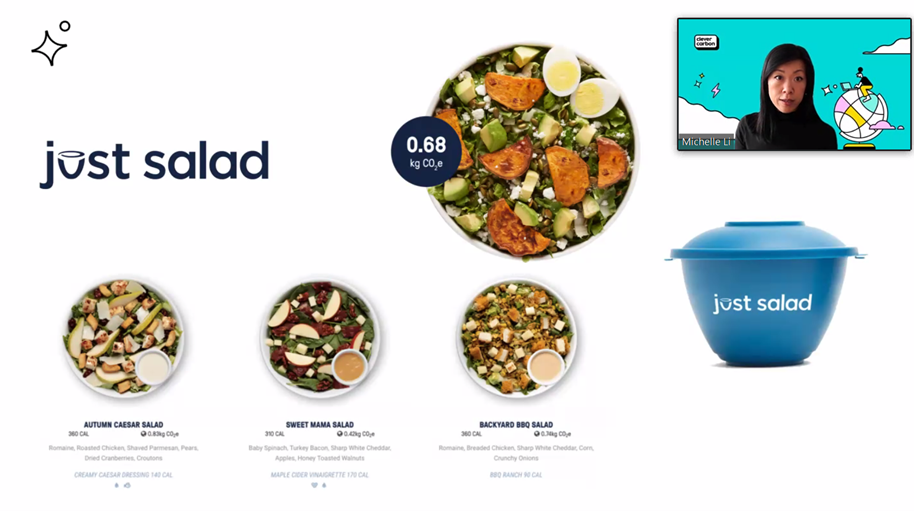 Carbon Footprint and the Future of Consumer Brands - Michelle Li, TED Speaker, SXSW Panelist and Founder of Clever Carbon
This session was an interactive seminar on understanding the importance of measuring carbon and the impact that different daily choices have on our carbon output. Each participant took part in a carbon quiz to estimate our individual emissions and Michelle demonstrated ways we can reduce our impact through our travel, diet, and consumption habits. She also introduced the concept of carbon labelling for brands and how this metric is starting to appear on consumer items to enable customers to make purchasing decisions that reduce their emissions.
The Problem with Plastics - Erin LeFever, Sustainability and Ecology Specialist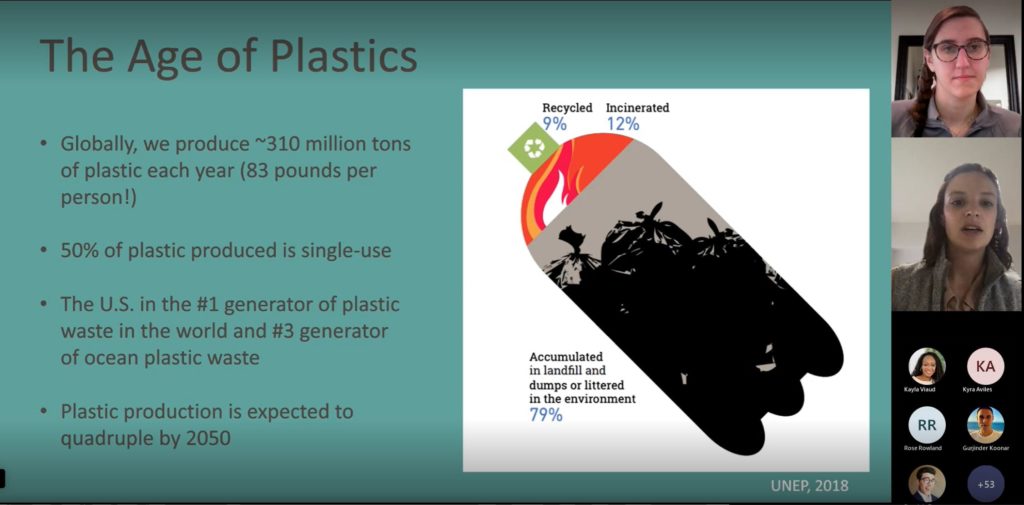 Erin led a comprehensive class addressing the problem with the "throwaway culture" plastic has created and outlined ways to reduce usage while saving money. This presentation gave an insightful overview of the history of plastics, and why they have become so prevalent in our society.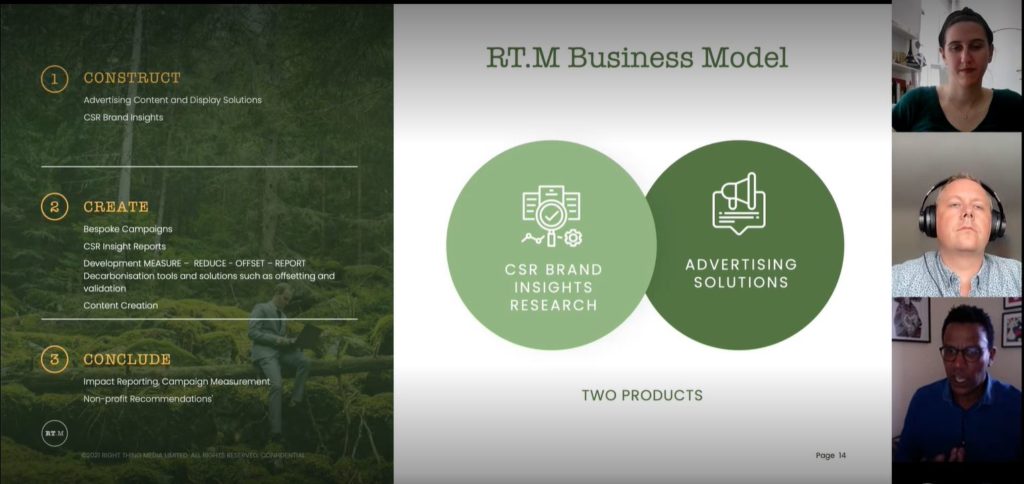 How to Integrate Climate Action into Your Current Media Plans -discussion led by Gerson Barnett, Executive Director, Right Thing Media
This session was an introduction to Right Thing Media, a purpose driven partner who are able to connect brands, agencies, and media owners with non-profits and audiences to generate tangible environmental and social impacts. RTM talked about how brands and agencies are uniquely situated to help fund charitable causes whilst delivering on their current campaign goals at no additional cost, and shared several brand case-studies focused on reducing the campaign carbon emissions.
How One Billion Gamers Can Save the World - discussion led by Paula Escuadra, Senior Game Designer at Xbox and SXSW Panelist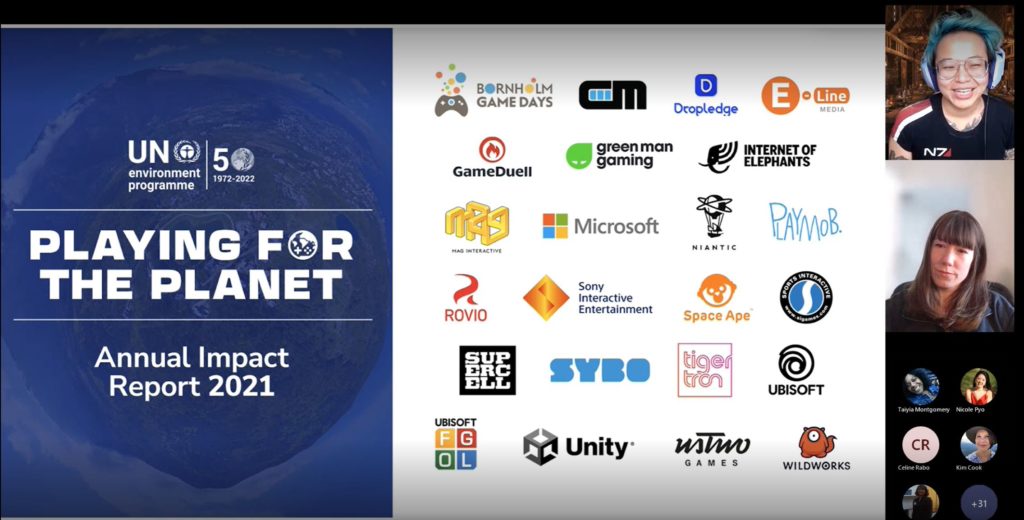 Paula led an incredible session outlining her work in leveraging the power of games to tackle the climate crisis and empowering the industry to decarbonize their platforms. She explains how gaming has the ability to breakdown complex concepts and create a different type of impact by building empathy. Insightful and inspiring, this session broadens your perception and understanding of how different industries are addressing the climate challenges and demonstrates how brands, companies, and industries can leverage their unique position to instigate change.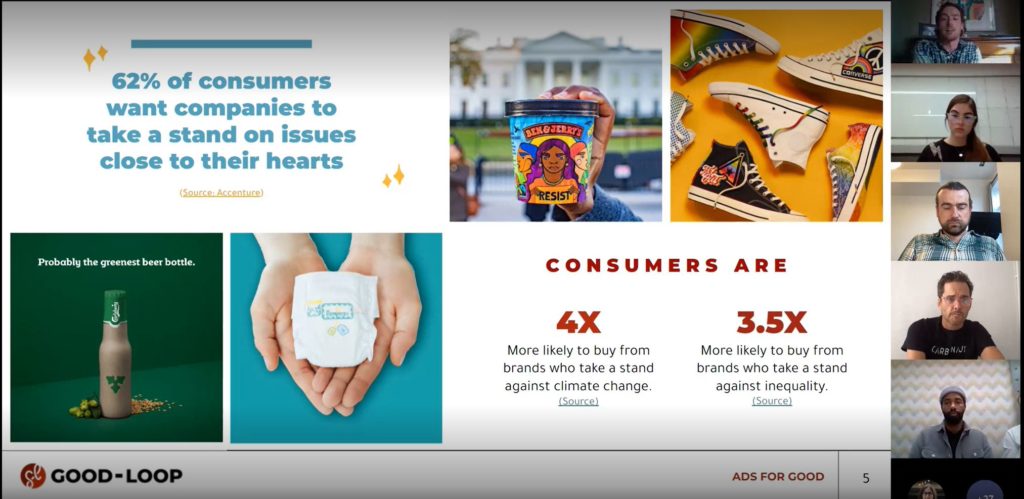 Lunch & Learn with GoodLoop, Disco & The Carbonauts - Karim Mohamed, US Sales Manager, GoodLoop, Graham Hill, Founder and CEO, The Carbonauts, and Chris Stefanyk, Head of Revenue and Rev Ops, Disco
This session was a lunch and learn with three diverse and interesting purpose driven partners. Firstly, GoodLoop who are on a mission to create a new, more positive role for advertising in society by incentivizing consumers to unlock a charitable donation as a way to drive media performance. Next up was The Carbonauts, who gave a run-down of their purpose in mobilizing individuals, companies and society in reducing their carbon footprint. As well as how they are partnering with Disco- an educational platform, to run virtual learning programs with thought leaders and brand sponsors, to develop new game changing concepts and ideas.
Our Atlanta Wellness Team coordinated efforts with local non-profits to help #TeamMindshare with spring cleaning
Got Sneakers? This organization's mission is to limit non-biodegradable waste, minimize CO2 emissions from sneaker manufacturing, and support a growing circular economy by recycling and reusing old sneakers.
Blue Jeans Go Green. This organization's mission is to reduce textile waste by taking recycled pairs of jeans and transforming them into creative products.
Give Back Box. This organization provides an effortless and convenient method of donating your used household items for those in need, all while recycling and reusing shipping boxes to promote sustainability.
Planting trees at our Los Angeles office
Our LA office partnered with One Tree Planted, an organization that helps with global reforestation efforts. For every three sustainable trips a person logged into the system, one tree is planted in their name.
4As Sustainability Summit
At the 4As Sustainability Summit, Mindshare's Ollie Joyce, Global Chief Transformation Officer spoke about why it's crucial for brands and agencies to lead the way in environmental sustainability. MediaPost and MediaVillage published stories recapping Ollie's fireside chat.
Excerpt: "We need to treat sustainability in the same way that we treated digital transformation for the last 15 years," Joyce said. "Digital transformation has been all about business growth, and ultimately, if you haven't invested in it, you've gotten left behind. And I think we need to take the same attitude with this, because unless you're truly invested in sustainability, you really are going to be left behind."
Sustainability Quantified
From our 2022 Culture Vulture Trends report, this trend examines how platforms and brands are measuring our ecological footprint to help us make better decisions for the environment. Read the full piece here.
Excerpt: "It can be difficult for people to think that they can make a difference in climate change. With it being such a large and complicated issue, 50% of young people feel powerless over climate change. Many feel like bystanders and that impactful action can only be done by large entities like nations and companies. We have long understood how industries have contributed, but rarely has it been narrowed down to consumer levels."