Gender Pay Gap Report 2019 & 2020
This is our fourth year of gender pay gap reporting and we are pleased to say that the overall trend is positive.
We are happy to report that we have managed to improve our overall pay gap from 23.32% (mean) / 16.88% (median) in 2019 to 22.08% (mean) / 15.17% (median) in 2020 for Mindshare employees in the UK, which covers both our UK and WW operations. Our mean bonus gap has also reduced, from 45.60% in 2019 to 36.44% in 2020, whilst the median bonus gap has increased slightly (from 10.0% to 11.11%).
Our overall gender split across the business has also seen a positive trend. Since we started to report our gender pay gap in 2017 we have seen the percentage of women in the fourth quartile, which is the highest paid quartile, rise from 40% in 2017 to 48% in 2020, with a 2% rise recorded in the past year.
In fact, the percentage of female employees across all quartiles has risen since we first began reporting in 2017 as more women than men have joined the business. However, our fourth quartile is still largely responsible for our pay gap due to it still having more men than women and is where we need to continue to concentrate our efforts.
We are proud that as a global network Mindshare has 51.6% female representation at board / executive level and that 58.8% of our employees are women. However, we know that there is lots more to do, which is why we have multiple policies and programmes in place to try and tackle the underlying societal and business issues that cause the gender pay gap. These include initiatives like shared parental policies, equal opportunity promotions, unconscious bias training, female leadership programmes, flexible working policies and support for those who have been out of the workplace for a long period. You can read about these and more later in this report.
We are an inclusive employer and believe discrimination, oppression and inequities towards people of different race, ethnicity, gender, sexuality, abilities, age or any other differences, are unacceptable and have no place in the world or within our Mindshare family. We strive for an environment where everyone is treated fairly and respectfully, has equal access to opportunities and resources, where everyone can have their voice heard and can contribute to the organisation's success.
We are both committed to doing everything we can to close the gender pay gap and will continue to measure and monitor our performance as well as introducing the policies and initiatives that are required.
DECLARATION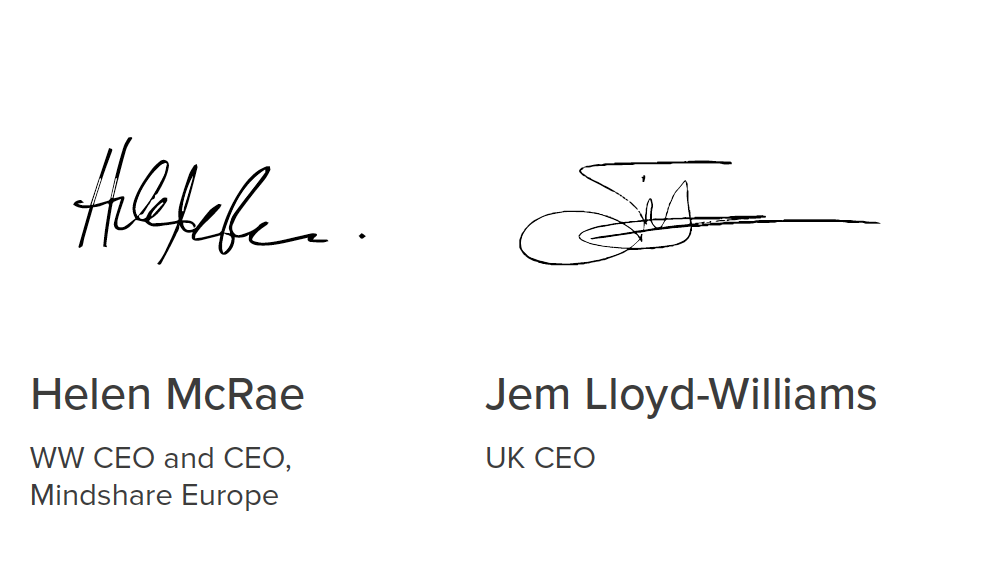 Tables
TOTAL MINDSHARE EMPLOYEES 2019 & 2020
| | | |
| --- | --- | --- |
| | Male | Female |
| 2019 | 43.3% | 56.7% |
| 2020 | 42.7% | 57.3% |
MINDSHARE HOURLY PAY GAP
| | | |
| --- | --- | --- |
| | Mean | Median |
| 2019 | 23.32% | 16.88% |
| 2020 | 22.08% | 15.17% |
MINDSHARE BONUS PAY GAP
| | | |
| --- | --- | --- |
| | Mean | Median |
| 2019 | 45.60% | 10.00% |
| 2020 | 36.44% | 11.11% |
% RECEIVING A BONUS
| | | |
| --- | --- | --- |
| | Mean | Median |
| 2019 | 43.55% | 37.78% |
| 2020 | 45.04% | 39.00% |
2020 PAY AND BONUS MEAN AND MEDIAN PAY GAP
| | |
| --- | --- |
| Mean Pay Gap | Median Pay Gap |
| 24.69% | 16.24% |
| | |
| --- | --- |
| Bonus Mean Gap | Bonus Median Gap |
| 38.79% | 16.67% |
2019 PAY AND BONUS MEAN AND MEDIAN PAY GAP
| | |
| --- | --- |
| Mean Pay Gap | Median Pay Gap |
| 25.84% | 15.98% |
| | |
| --- | --- |
| Bonus Mean Gap | Bonus Median Gap |
| 50.27% | 6.25% |