#ID Culture – The Wellness Revolution
The culture of wellness has never been so relevant. Following the pandemic, people across the world have been prompted to care more for their wellbeing than ever before.
Mindshare research found that the constant assessment of our health, day in and day out, impacted how we think about our overall health, with the development of healthy habits remaining a priority. A massive 66% of the global population are paying more attention to their overall health now than before COVID-19 and around 4 in 10 global consumers would say saving money, eating well and exercising regularly is a top priority for them to manage their wellbeing.
Key findings:
Wellbeing Hyper Consciousness
Consumers are now seeking out ways to manage the uncertainty and anxiety of the modern world to achieve a better balance in their lives and get to a place of wellness and preventative healthcare. According to our global tracker, 72% live a very healthy lifestyle and 72% felt like they had sufficient knowledge to protect themselves from COVID. This is because people are becoming hyper focused on their personal wellbeing, and this hyper-health consciousness has been felt all over the world.
Holistic Health
People are increasingly looking at their health more holistically, considering how physical, mental and environmental wellbeing are all interlinked. These are very powerful areas that brands can tap into to engage consumers in positive ways to deliver value to consumers. According to the Global Wellness Institute, £1 in every £16 spent by consumers worldwide is on wellness, and the sector is expected to be worth £5.6 trillion by 2025.
Physical: Self-Optimisation
One consequence of a global lockdown was the increased time consumers had to focus on work-life balance with more time for healthy habits. Two years on, people are still looking for ways to prevent future health issues, from a change of diet to using wearable devices to monitor wellbeing to keep health insurance costs down. Our research found that 73% of global consumers say they are trying to stay healthy while they are spending more time at home and 73% of global consumers agree that it is now the responsibility of the public to live safely with COVID.
Many people were forced to seek healthcare through digital means during the pandemic and embraced telemedicine, a trend that is now continuing to grow. In our research 42% stated if they are sick in the future, they would be more likely to visit a teledoctor than go to a doctor's office. And given 42% of people understand what the metaverse is and with the increased amount of time they are spending online, we can envision a future with innovative virtual care solutions and the rise the 'meta-health'.
People are also engaging with health and wellbeing communities to improve their health. Spurred on by the zoom exercise classes or socially distanced exercise during lockdown, today group outdoor exercise, wellness grassroots collectives or online wellness communities are becoming more popular, as consumers want to maintain that collective feeling of working on bettering their health. Our research found 45% of people are following more groups on social media to engage with their local community more, confirming this trend.
Mental: Mind Over Matter
The pandemic and subsequent lockdowns put a lot of pressure on our mental health and made us place more importance on this aspect of our lives. Our research shows 54% of people say the pandemic has made them think differently about their mental health and more than half of the global population (57%) say the new hybrid approach to work life will give them more opportunities to do the things they enjoy.
Dealing with mental health pressures from all angles, whether that be the health risk posed to loved ones, financial strain (76% have noticed the cost of their household bills have increased) or loneliness, consumer attitudes towards how they look after themselves have been transformed. People are increasingly seeking solutions to manage growing levels of stress and anxiety. Brands can engage consumers in more empathetic ways by offering support, such as initiatives for financial education or partnerships for positive mental wellness experiences.
Environmental: We Are One
The pandemic saw a shift in consumer attitudes towards sustainability. Our research shows 69% of global respondents are now more aware of the impact their actions have on the environment.
This is also extending into the wellbeing space. 53% of people agree that if a product is seen as 'sustainable' they think it's better for their health or wellbeing. The more sustainable a brand or product is, the more consumers perceive it as better for their overall wellbeing, with 65% saying they will continue to use more environmentally friendly products post pandemic due to the health and sustainability benefits associated with them.
Across the world there is a growing number of brands pledging to make authentic changes when it comes to sustainability, but consumers are quick to jump on those that make claims of being 'healthy' but who are in reality greenwashing with an inauthentic 'all natural' narrative.
Summary:
To help drive Good Growth, brands have an opportunity to tap into the growing culture of wellness and make it more accessible, integrated, aspirational and culturally relevant for consumers who these days demand more from brands – more transparency; more value; more action and more authenticity, especially when it comes to their wellbeing.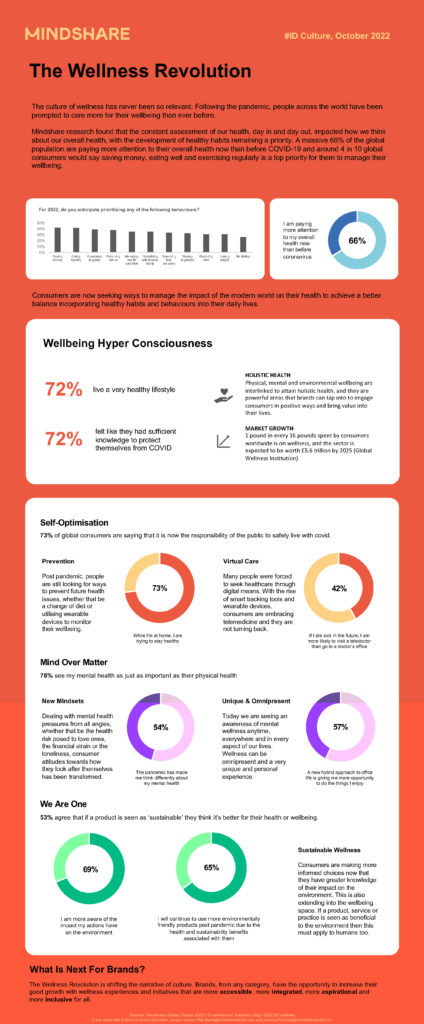 Sources: Mindshare's Global Tracker 2022 (10 markets) and Audience Origin 2022 (56 markets)
If you would like to find out more information, please contact: [email protected] and [email protected]